Current Events
The Discussion Series:  "Understanding Ourselves and Others"
The All Saints Parish family made a commitment to each other at the last Annual Parish Meeting in February to work this year to understand ourselves, and people not well represented at All Saints, better.  To this end, the Living Our Values Commission (LOVC) has worked hard to organize a public discussion series.  The next in this series, titled "Music of the Civil War Era:  Its Role, Its Influence, Its Legacy" will be held August 1st on Zoom, from 2:00 PM to 4:00 PM, and all in the County is invited.   This discussion is  sponsored by one of our Worship Commission More information can be found on the flyer below.  The discussion will be facilitated by the Community Mediation Center of Calvert County.
To join the presentation and discussion on Zoom, please contact the church office for Zoom details via email.  All are welcome to join the presentation and subsequent discussion.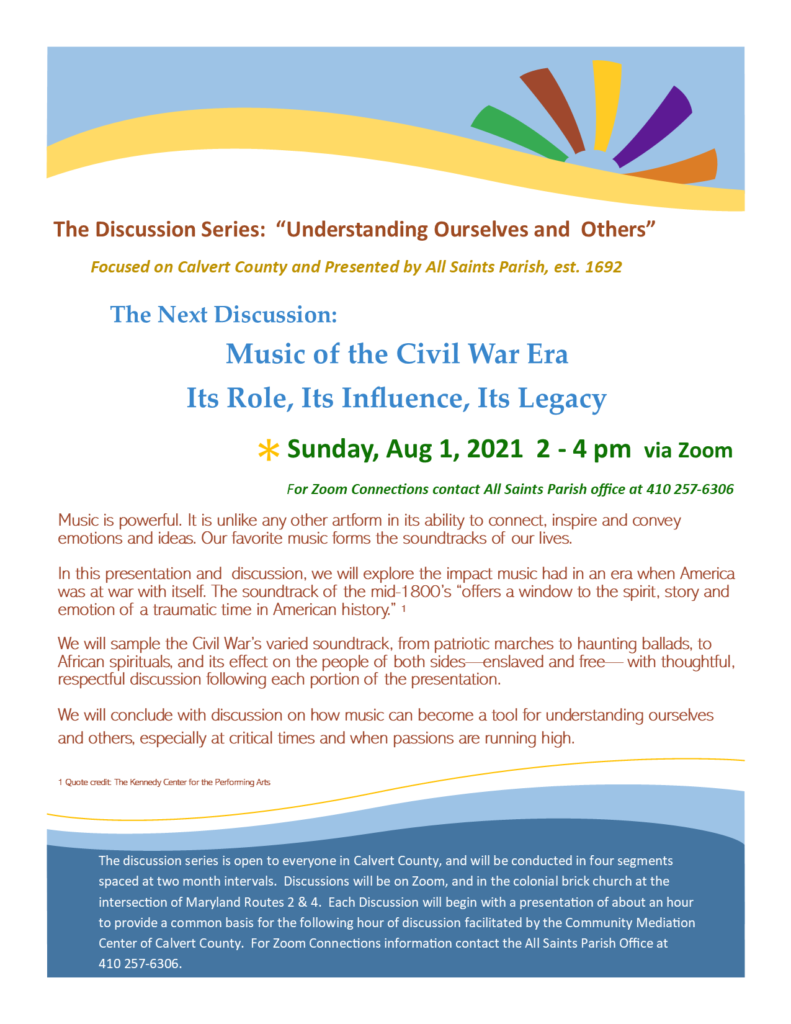 ---
Annual Events

Calvert Arts Festival
The Calvert Arts Festival began in 2007 to bring together southern Maryland artisans, wineries, food purveyors and entertainers to this quality juried event. Local brewers are now added to the mix, held annually on the second Saturday of May. Stroll All Saints' lovely campus and inside its Parish Hall for quality artisan offerings. Live entertainment, silent auction and children's crafts. Walk the labyrinth. Tour our historic church. Relax and enjoy the music.
Free admission and parking. Fee ($15) for wrist band and tasting glass for alcoholic beverages. Proceeds benefit community charities. To date, we have raised nearly $70,000.
CLICK HERE for current artisan application (coming soon)
CLICK HERE for current winery/brewery application
CLICK HERE to reserve your wrist band and tasting glass
Volunteers Needed!
Here's how you can help:
CLICK HERE link to see our SignUp list on SignUp.com.
Review the options listed and choose the spot(s) you like.
Sign up! It's easy – you will NOT need to register an account or keep a password on SignUp.com.
Also, we have a few critical CAF spots to fill this year. Please let
Lisa
or
Patrick
Herlihy know if you have any interest in the following:
Bursar
Traffic Control (Friday and Saturday)
Skits and Good Cheer
Brochure Ad Sales (this one is VERY important!)
For more information, be sure to check out and LIKE Calvert Arts Festival on Facebook.
---
Christmas Market
All Saints' Christmas Market is a fun place to get into the holiday spirit and shop for holiday treasures for gifts and for yourself! Held on the second Saturday of December since 2006, it features local musical entertainers and items from local crafters and artisans. The Episcopal Church Women (ECW) sell home-made items: baked goods, cocoa and Glühwein (a hot spiced wine popular in Europe). Free admission and parking. Proceeds benefit parish and community projects.  To date, we have raised more than $31,600.
CLICK HERE for current crafter application (coming soon)
Chair: