Hospitality/Coffee Hour
All members and guests are welcome to join us in the lower Parish Hall every Sunday between services, from 9:00 – 10:00 AM for coffee/tea, treats, and fellowship.
Due to COVID-19, on-site gatherings are suspended.  Please join us virtually on Sundays at 9:45 AM (15 minutes before service) and bring your own beverages and treats! We are physically distanced, but not socially and spiritually distanced! For information on how to join, see
Online Worship page
.
---
Women's Breakfast
Ladies, once the COVID-19 restrictions are suspended, we will again meet for breakfast at 9 AM on the second Saturday of each month. The location changes monthly, so contact the Episcopal Church Women's president the week before for details.
---
Men's Breakfast
Gentlemen, come meet us for fellowship and breakfast at 8:30 AM at Trader's in Chesapeake Beach on the first Saturday of every month, once the COVID-19 restrictions are lifted.
---
Les Saints du Vin Wine Tasting Group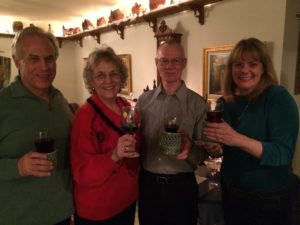 Les Saints du Vin is a friendly group of folks who meet for wine tasting, fellowship, fun, and the enjoyment of learning about good wine in the ambiance of members' homes or other suitable locations. No dues are collected or expected; however, members and guests pay for their equal portion of the wine at each tasting and bring a snack to share. The host/hostess selects the wines to be tasted and the format and theme for the tasting. At the end of the tasting, the group votes for the overall favorite wine by placing individual cash donations under the bottle of their favorite wine. The funds raised by voting are given to a charitable organization that the group selects during the tasting.
John Overstrom is the Bacchanal and Cindy Overstrom is the communications director.
Tastings are normally held on the second Sunday of each month, from 4-7 PM. Due to COVID-19 physical distancing requirements, the tastings are held virtually via Zoom with each member in his/her own home and providing their own wine and snacks.  We continue to be socially and spiritually connected. Members continue to contribute to community outreach via on-line donations through the church's website. For information on how to join, please contact
Cindy Overstrom
.
---
Knitting/Crocheting Group
The knitting/crochet/craft group meets on Thursday afternoons from 1-3 PM. Group members work on their own personal projects, crafts for the Calvert Arts Festival in May and the December Christmas Market, as well as crocheting and knitting Prayer Shawls. These shawls are blessed by the Rector during a church service and are then donated to those in need of God's warmth.
Usually the group meets at a parishioner's home.  However, due to COVID-19 physical distancing requirements, the group is meeting virtually via Zoom. Now we can even stay connected with members who have moved out of the area!  For information on how to join, contact the
church office
.